Welcome to 100% RAW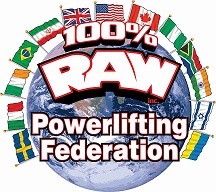 The 2017 100% RAW Powerlifting Championships are  coming – October 5-8, 2017
2017 Strict Curl World Championships Information
 2017 Female World Championships Information
2017 Men's Lightweight World Championships Information
2017 Men's Heavyweight World Championships Information
How do I qualify?
 ** Compete in a 100% RAW competition anytime in 2015, 2016 OR 2017.
 ** Place in the top 5 of your weight class and division in the RAW competition. 
If you live where there are no RAW events you can get a waiver by sending the meet director an email.
Some information for your planning purposes: The entire event will be held at the
Courtyard by Marriott Erie Bayfront
(Adjacent to event venue)
2 Sassafras Pier Erie PA 16507
(814) 636-1005
There are some rooms still available, first come, first serve —
DON'T WAIT!!

 CLICK HERE NOW!!
We will have an extensive selection of 100% RAW Powerlifting apparel available for purchase in the Vendor's Atrium directly outside the event hall.  Event tee shirts (limited supply), hooded sweatshirts, singlets, twill button-down shirts, Champion shorts, hats, polo shirts, Dry Excel hoods, moisture wicking long sleeve tees, polar fleece, and much, much MORE!!!  We will be able to accept cash, Master Card, Visa and Discover for your purchases of RAW apparel.
ADMISSION FEES: Please be sure that your guests are aware that we are charging an admission fee for spectators, $10 per day, per spectator.